BORONGAN CITY – To pay tribute to the pride of the school, Eastern Samar State University held its 5th Pasidungog Awards Nite, Tuesday, May 28 at the 2nd floor Main Library.
Both local and national the students, advisers, and the different ac-credited student organizations of the university were given recognition for their utmost hard work, talents, and contributions to the university.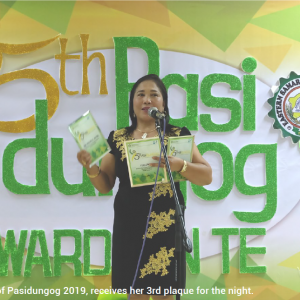 As one of the awardee said, "The awards we have reaped now are reflections of our works. This is not the last. This is only the beginning."
"The Pasidungog Awards Nite is a way to inspire the different organizations to do better in the upcoming years for their activities," said Dr. Edmundo A. Campoto.
Spearheaded by the Office of the Students and Alumni Affairs (OSAA) under the supervision of Dr. Jonas V. Palada, Student Publication and Broadcasting Services (SPBS) host-ed the said event.
To give flavor to the event, Teatro Lantawan Dramatic Arts Guild presented a play entitled "Karapatdapat" showcasing a student leader who garnered an award which was then followed by the night's highlight.
The most outstanding students, advisers, advocacies, personnel, and student organizations were chosen carefully depending on the things they've done for the students and university.